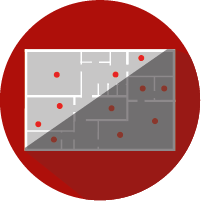 Graphics included in IFTER EQU were designed to present the status of system's elements: detectors, alarm areas, doors, cameras. Operator sees graphic icons that change automatically, depending on the state (for example: active, fault, inactive). By making a click on an icon, you can steer the device: send a command to arm or block, display the latest events and see the footage from when the event occurred. Visualization also allows you to implement special modules, such as logs, signalizations, etc. Thanks to modules, user has access to previews of events and alarms. He can also check the state of the device for bypass, alarms or faults.

From general to detail
Visualization includes multiple levels, so that operator can see the whole object, as well as particular floor and rooms. Such structure allowed us to create mechanism that leads from general to detail (to pinpoint a location where thread occurred). System will also indicate possible escape routes of the intruder. This way, operator can send foot patrol to the right place and suggest how to proceed in a dangerous situation. Security guard might be equipped with a mobile device where he can see any changes to the present danger.
Devices and events
IFTER EQU offers easily adjustable interface, so that operator can make appropriate changes, depending on what the investor needs or what would be the best solution for this particular object. User can place active elements on architectural plans, which reflect current state – both physical and logical – of devices located on site. To see the details, operator must click on a selected element. He will be able to check the name, address and the latest alarms or events concerning this element. If operator has a required access level, he can also steer it. Thanks to our system, you have the possibility to present multiple devices on one preview, regardless of manufacturer. Such solution allows for a full security coverage.
Logs
Logs were designed to enable textual presentation of changes in devices or within the system. Update of a current state is dynamic and automatic – it requires no action from the operator. Logs are displayed on a graphic background defined by the user. You can choose from a number of logs: for alarms, operators, events, system log and finally a trend log. User can assign selected color and priority level to alarms. Top priority alarm (for example, life threating situation) will always be visible on top of the list, even if there are latest but less important alarms in the log. Operator have the option to confirm, mute and comment on the alarm. Furthermore, we created a mechanism of procedures that can be adjusted to any given situation and are essential in a moment of stress and danger.
Trends & Thresholds
IFTER EQU implements trends to log input/output value changes concerning building automation and measuring systems. Collected data is presented in a form of charts and tables. There are 4 ways to register data. Operator can set the system to save data according to defined schedule, upon value change, every time interval or at specific time. This mechanism concerns a number of building parameters: water level, temperature, ventilation, etc. Trends are designed to gather information generated by electric meters installed on site. Operator will be alarmed if any parameter reaches undesirable value. This way you can perform full analysis and protect your object even better.
Analytics
We think it's essential to enable constant improvement of your security system, as well as building automation. Based on this idea, we built mechanisms to analyze data gathered by IFTER EQU. Operator can access special reports which include archives (events, trends). With such overview, you are able to observe the course of action and reaction to a threat: change of state or specific values, comments and how quickly appropriate steps were taken. Analysis allows to correct and adjust both existing procedures and devices. Operator can suggests any changes that he sees fit, in order to make the security system more effective..